May 22nd is Drum Circle/Folk Instrument night! More info below!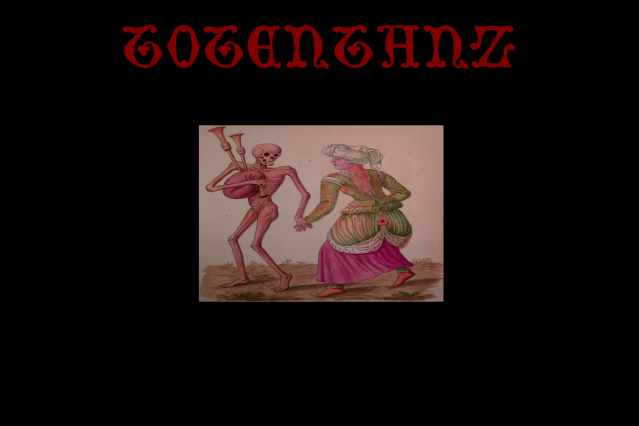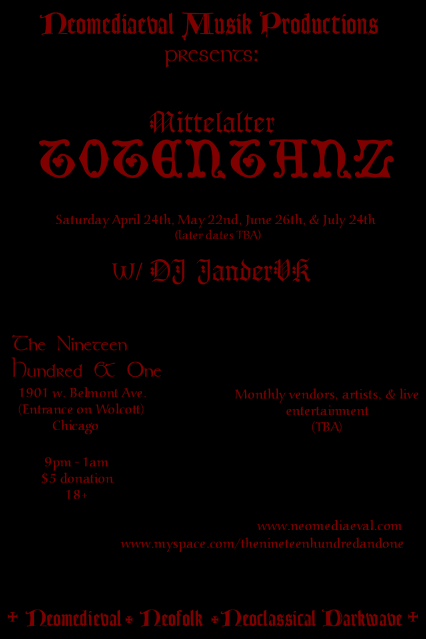 TOTENTANZ w/ DJ JanderVK
@ The Nineteen Hundred & One Gallery
1901 W Belmont (entrance on Wolcott) , Chicago. IL.
**Saturday April 24th, May 22nd, June 26th, July 24th, (later dates TBA) **
9pm - 1am
$5 donation
18+!
DJ JanderVK spinning Neomedieval/Renaissance, Neofolk, Neoclassical Darkwave, Pagan-Medieval/Folk, and traditional music!
Premier event of it's kind in the U.S.!
We are highly influenced by European "Mittelalter (trans. "Middle Ages/Medieval")" festivals, markets, and nights such as "Mittelalterlich Phantasie Spectaculum", "Mittelalter Party", "Festival Mediaval", and mittelalter markets.
ENTERTAINMENT:
May 22nd: Drum circle! Bring a drum if you have one (or any other percussion or folk instrument), or just dance if you want to! 10-11pm
VENDORS:
May 22nd: Urnes Ash Tree/Custom Drinking Horns; Lady Helene's Incense and Candles; (more vendors TBA)
Special guest performances, artists, and/or vendors each month! (TBA; please get in contact with me if you wish to vendor your Medieval/Renaissance and/or Pagan wares!)
***Dressing up in your finest period garment is not mandatory, but very much encouraged!!***
Event Location: 1901 w. Belmont in Chicago
Event TIME Details: 9pm - 1am
Directions: Entrance is right off of Belmont on Wolcott.
Accessible from the Belmont stop on the Red Line train and #77 CTA bus.
Website:
http://www.myspace.com/neomediaeval
WebsiteII:
http://www.facebook.com/neomediaeval
Website III:
http://www.neomediaeval.com
Venue:
http://www.thenineteenhundredandone.com
Current Music: Hobouda-"Zaklinanie"